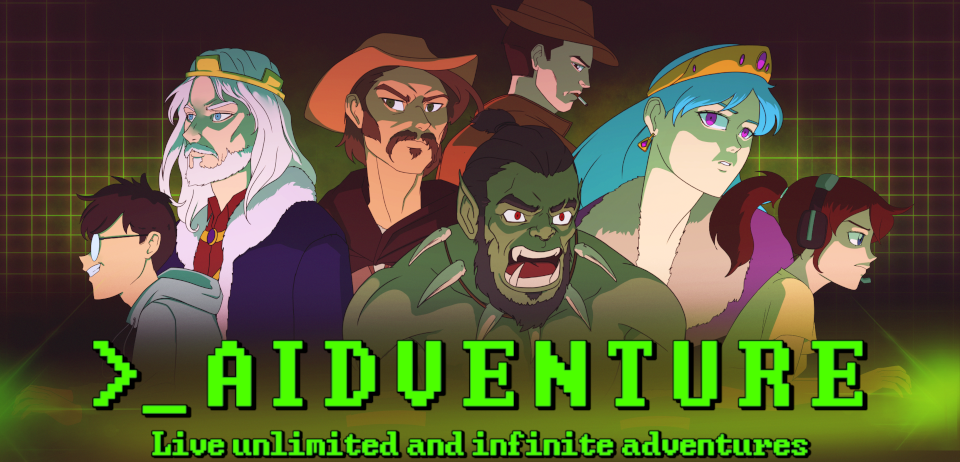 AIdventure
A downloadable game for Windows and Linux
Protect Europe from the overpopulation by enforcing the tough Law on life,

a life for a birth. Or flip the table and fight the cruel plutocracy to free humanity.
Survive the zombie apocalypse, but will your humanity survive in the process?
Inherit a corrupt kingdom and survive the court's intrigues.
Live the American dream and emigrate from Hong Kong with the help of the Triad. Sadly, nothing is free and your dream isn't an exception. What will be the price?
Fight Orcs with swords or blasters. Survive the harsh Dark Ages in the skin of a peasant, witch or squire. Wake up within a tube in a post-apocalyptic world. Plunder on the seven seas or just help your neighbour's wife with her plumbing problems. The choice is yours.
AIdventure is a text adventure game with an AI as a storyteller. It is shipped with 27 starting scenarios. From Fantasy to Lovecraft or zombie genre, they will help you discover the game's potential.
Community-friendly, the game lets you unleash your creativity by writing and sharing your own stories with other players. No rules, no censorship, the only limit is your imagination, not someone else's.

Customizable - Don't like the AI? Don't like the settings? Change them!
Memory system - The AI has both a short and long term memory.
Easy to use interactions - Choose the mode of interaction with the AI between Say/Try/Do/Story.
RPG system - Create your character's stats and fail or succeed in your own actions.
Generate multiple AI's responses - If you hesitate, you can ask the AI to generate another response.
Story editor - You can edit whenever you want your story.
Scenario editor - Feeling creative? You can create a new scenario or edit an existing one.
Community friendly - Stories and scenarios are stored in json files. It's easy to share and add new content to your game.
No censorship - Keep control of your stories.
Privacy safe - Your data remain on your PC, and only you can access it.
27 scenarios - From fantasy to Lovecraft or Zombies, the starting scenarios will help you discover the game
GPU support - The game supports CUDA to improve the performances.
Automatic translation - Live your adventure in your native language! See supported languages here.
Lore book - Build coherent stories with the lore book!

If you want to get involved in the development, informed of the new content, or just share stories and scenarios.

Join the community on Discord and Reddit!
Or follow me on

- Itch
- Twitter

- Facebook
- YouTube


I plan to add new features to the game. The order of this list isn't relevant.

Short term
Add more languages - Request new languages here.
Interface rework
Medium term
Extension of the RPG system - Avatar for characters, dialog system, custom skills
Server optimization
MacOS support
Quality of life improvements
Long term
Multiplayer - Connect to your friend's AI and write the story together
Mod support (not certain)
Others
'RPG' system - Roll your attributes (Strength, Charisma, etc.) at the start of the game. These stats will be used to add some randomness to your actions. Released in the 1.1.0.
Auto translation - Add support to use additional language to interact with the AI. Released in the 1.3.0

gpt2

gpt2-xl
gpt2-medium
gpt2-large
EleutherAI/gpt-neo-125M
EleutherAI/gpt-neo-1.3B
EleutherAI/gpt-neo-2.7B
KoboldAI/GPT-J-6B-Adventure

KoboldAI/GPT-J-6B-Skein
KoboldAI/GPT-Neo-125M-AID
KoboldAI/GPT-Neo-2.7B-Horni-LN
KoboldAI/GPT-Neo-2.7B-Horni
KoboldAI/GPT-Neo-2.7B-Picard
KoboldAI/GPT-Neo-2.7B-Shinen
Check this page for more details about the AIs requirements



A "weak" pc will limit you.

6 GB of RAM
CPU - 4 cores
10 GB of storage
64 bits pc

16 GB of RAM (32 GB if you want to run all the AIs)
4.00GHz CPU - 8 cores
20 GB of storage (You may need more if you download a lot of AIs)
64 bits pc

The AI is biased and may generate socially unacceptable text. I'm not responsible for the generated content.
The AI is not censored and may generate erotic content.

Local content
No moderator reading your stories
No data leaking.
| | |
| --- | --- |
| Updated | 26 days ago |
| Status | Released |
| Platforms | Windows, Linux |
| Rating | |
| Author | Lyaaaaaaaaaaaaaaa |
| Genre | Interactive Fiction, Adventure, Role Playing |
| Made with | Godot |
| Tags | Adult, artificial-intelligence, Erotic, Female Protagonist, Male protagonist, Narrative, Story Rich, Text based |
| Average session | About a half-hour |
| Languages | Catalan; Valencian, German, English, Spanish; Castilian, French, Polish |
| Inputs | Keyboard, Mouse |
| Links | Steam, Community, Support, Twitter, YouTube, Facebook, Reddit, Website |
Purchase
In order to download this game you must purchase it at or above the minimum price of 12.00€ EUR. You will get access to the following files:
aidventure-windows-64.zip
249 MB
aidventure-linux-64.zip
254 MB
Download demo